Tech Info –
Beamlines Specifications
The Facility
Biomedical imaging and Therapy facility is a set of two beamlines (05ID-2 and 05B1-1) designed to support a wide variety of programs in the life sciences by providing outstanding possibilities for pre-clinical and biomedical imaging. The versatility of BMIT imaging stations also allows to study various problems of material science, energy, environment, cultural heritage, and others scientific areas. The facility is arranged so that animal preparation and hutch entry is from inboard side of the beamline while the human access is from the outboard side.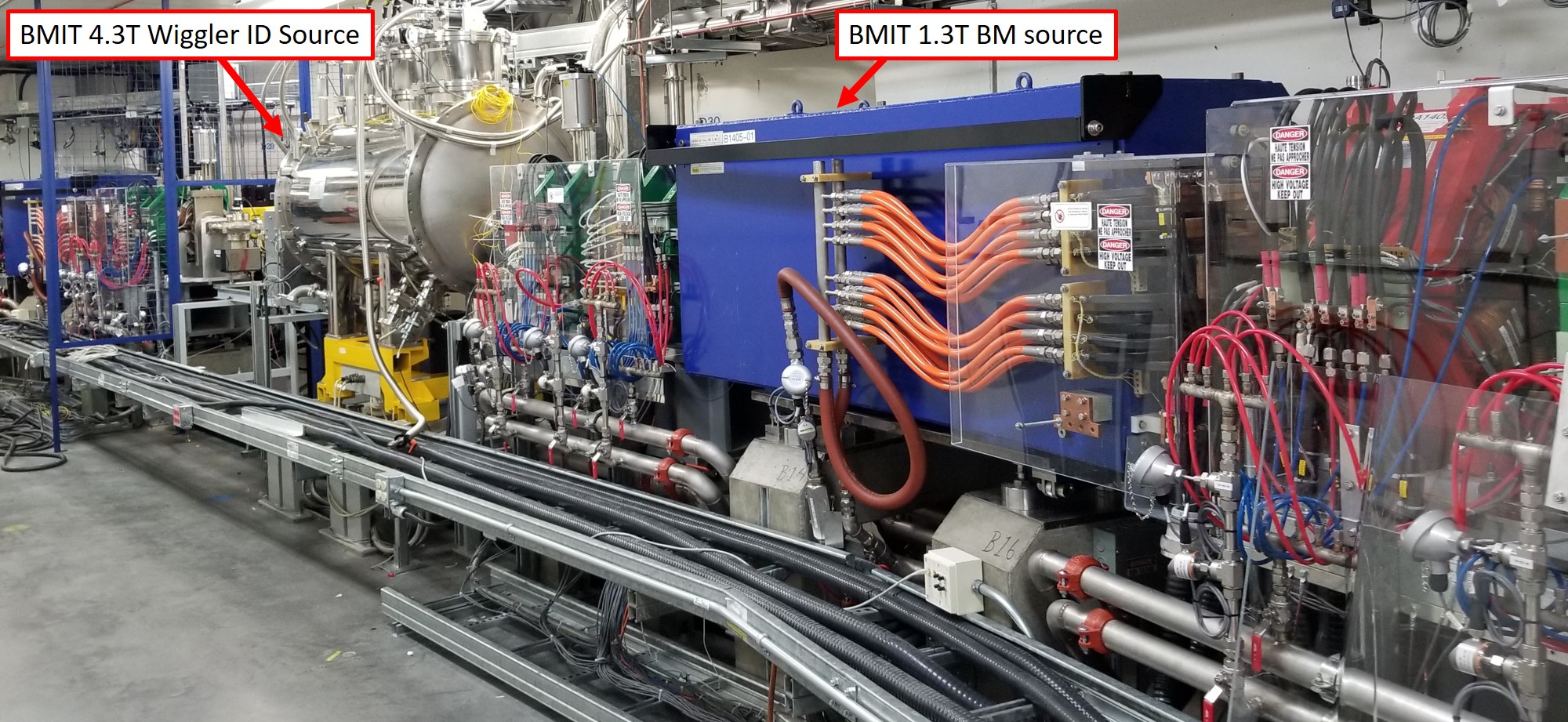 05B1-1
---
The 05B-1 bending magnet beamline generates X-rays in the energy range 12.6-40 keV which is optimal for imaging of lightweight, small samples and of little animals such as mice. Owing to the exceptional stability of the beam, crystal-based imaging modalities such as K-edge spectral imaging and analyzer based imaging can be employed. Access to the white beam enables imaging with high spatio-temporal resolution (CT snapshot in less than 10 sec) and high throughput screening.
Status
Operational: Accepting Proposals
Source
Bending Magnet
Energy Range
12.6 – 40 keV
Wavelength
0.8 – 0.3 Å
Resolution Δ E / E @ E

Mono (DCM) beam: 0.57 x 10-4 with Si(2,2,0)
Filtered white beam: ~10-1

Beamline Length
26 m
Beam Size (Horizontal x Vertical)
240 mm x 7 mm @ 23 m
Max. sample-detector-distance
6 m
Max. sample load capacity
50 kg
Available techniques

Absorption computed tomography and microtomography
In-line Phase Contrast Imaging
Diffraction Enhanced Imaging (DEI) / Multiple Image Radiography (MIR) (Rocking curve imaging)
Ultrafast and time-resolved radiography and tomography (White beam access)
K-edge Subtraction Imaging
Spectral K-edge Imaging
05ID-2
---
The powerful 05ID-2 wiggler-based beamline delivers photon beam with flux density sufficient to acquire a monochromatic CT dataset in five to ten minutes in most cases, but as fast as thirty seconds. Spectral range extends from 25 to 150 keV, which can be used to study large animal models such as piglets and, in general, penetrate through thick, absorbing samples.
Status
Source
Superconducting 4.3T Wiggler
Energy Range
25 - 150 keV
Wavelength
0.5 – 0.08 Å
Resolution Δ E / E @ E

Mono1 CT:10-3
Mono2 CT:10-3 (not currently available)
Mono3 DEI:10-5(not currently available)
Mono4 KES:10-3

Beamline Length
55 m
Beam Size (Horizontal x Vertical)
220 mm x 11 mm @ 55 m
Max. sample-detector-distance
6 m
Max. sample load capacity
450 kg (Imaging)
136 kg (Therapy)
Available techniques

Computer Tomography (CT)
Conventional Absorption Imaging
In-line (Propogation-based) Phase Contrast Imaging (PBI)
K-edge Subtraction Imaging (KES)
Monochromatic Microbeam Radiation Therapy